Internships: Your First Step into the Corporate World
November 08, 2014 written by Nishanth Babu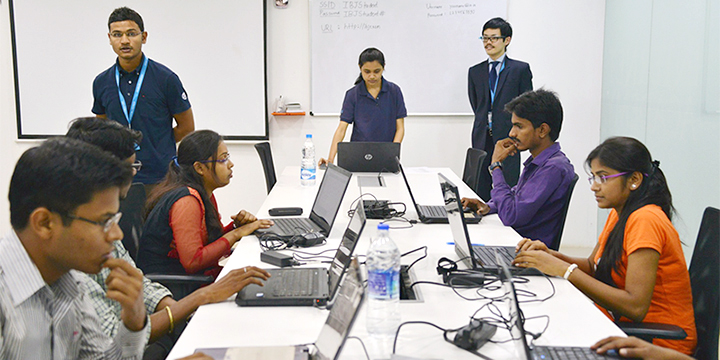 In a world where we're continuously surrounded by choices, how do you make possibly the most important one of all- what career is right for you?
Let's take a look at today's IT Industry. Today, even within a particular field, there are numerous sub-specializations on offer. Whether you choose to be a Data Analyst, a Front-End or Back-End Web Developer, a Cyber-Security Engineer or a UI/UX Designer – your choices are endless.
So how do you test-drive the career you've chosen, to see if it's the perfect fit for you? How do you prepare yourself to meet the demands of a fast-changing global market?
There is no denying that there is a vast disconnect between the skill set being inculcated in students at the College/University level, and the expectations placed on graduates looking to enter the corporate world. Companies are on the lookout for graduates that can be profitable and productive from the very beginning, with the least amount of expended effort from the organizations themselves.
According to the results of a survey conducted by Internships.com – polling over 7,300 students and graduates, as well as about 300 recruitment professionals – internships have now become the most effective way for companies and students alike to find the perfect fit. Internships serve as extended interviews, giving companies insight into the work ethic and quality of output of their interns – which in turn fuels their confidence to possibly extend a future job offer. Students, on the other hand, get a taste of a company's work environment, knowledge of navigating themselves through the corporate world, and a chance to practically implement all that they have learnt over the course of their education.
Additionally, companies now require their employees to be competent at so much more that technical skills. Gone are the days when expertise in a particular field was the sole factor contributing to a job offer. Employers today have started placing immense importance on Soft Skills and Emotional Intelligence, as well. Being an ace developer is no longer enough – working as a team, communicating effectively, being receptive to new ideas and the ability to go the extra mile are now equally valued skills.
That's where internships come in. Being an intern gives you a chance to sit in on meetings, pitch in ideas, engage in brainstorming sessions, and develop a collaborative solution that meets the company's needs.
When looking for an internship, keep in mind that they work as symbiotic relationships between companies and students that help both parties grow. Choose a company that resonates with your ideals and work methodology. Being an intern is your first step into the Corporate World – make sure that you get the best out of the experience.